Are you looking for a new career or want to advance an existing one in the drain cleaning business? Then learn how to clean drains from the best in NYC, the Balkan Team. Now is a great time to take advantage of drain cleaning job opportunities over at the Balkan Drain Team.
The Balkan Team gives you an opportunity to learn and advance your plumbing expertise. It gives you a chance to join the team of NYC's most professional drain technicians. By joining our premier drain service company, you'll be part of our proud and dedicated workforce that also provides top-quality water line and sewer services throughout NYC. Here's a sneak peek of what you'll get to learn about a drain cleaning job opportunity from our team of experts and why you should choose the Balkan Team. 
Learn How to Clean Drains and Main Sewer Lines
The Balkan Team is your perfect choice to start a new drain cleaning job, and learn a valuable skill. This is whether you're looking to start your career or you want to advance your career in the field of plumbing. With the help of our drain cleaning experts, you'll learn all about drain and sewer cleaning services. Some of the critical things you'll get to learn include the causes of drain clogs, how you can locate the clogs, and of course, the necessary tools you'll need. 
Causes of Drain Clogs and How to Locate Them
Drain clogs result from the accumulation of debris over time, which eventually slows the movement of water through the drain. They can also be the result of a poor plumbing installation. Clients expect that you show up on time, fix their drain clogs on time. If left unattended, drain issues can quickly escalate to cause significant problems like flooding, slow water drainage, or sewage backup. Common causes of blockages include food waste, hair, mineral buildup, and excess dirt, to name a few. As you learn about your drain cleaning job duties, it's crucial to understand the possible causes of drain blockages and how to handle the blockage issue.
As for locating clogs, even though it may seem realistic, you need more practice. That's where our team of experts comes in.
You'll need to apply logic when locating drain clogs. The more you work with professional drain technicians, the more you'll gain experience on the same. Also, knowing the extent of the clog will help you make an appropriate judgment on which tools to use.  
Unclogging and Cleaning Drains During Your Drain Cleaning Job Training
As a professional technician, you need to learn about various tools used in plumbing and drain cleaning. Our team will and when or how each tool should work. You can use several standard tools to attend to the issue. These can include water jets, plumbing snakes, and other small tools like chemicals and screwdrivers. These are some of the tools you'll learn to use when learning how to clean drains.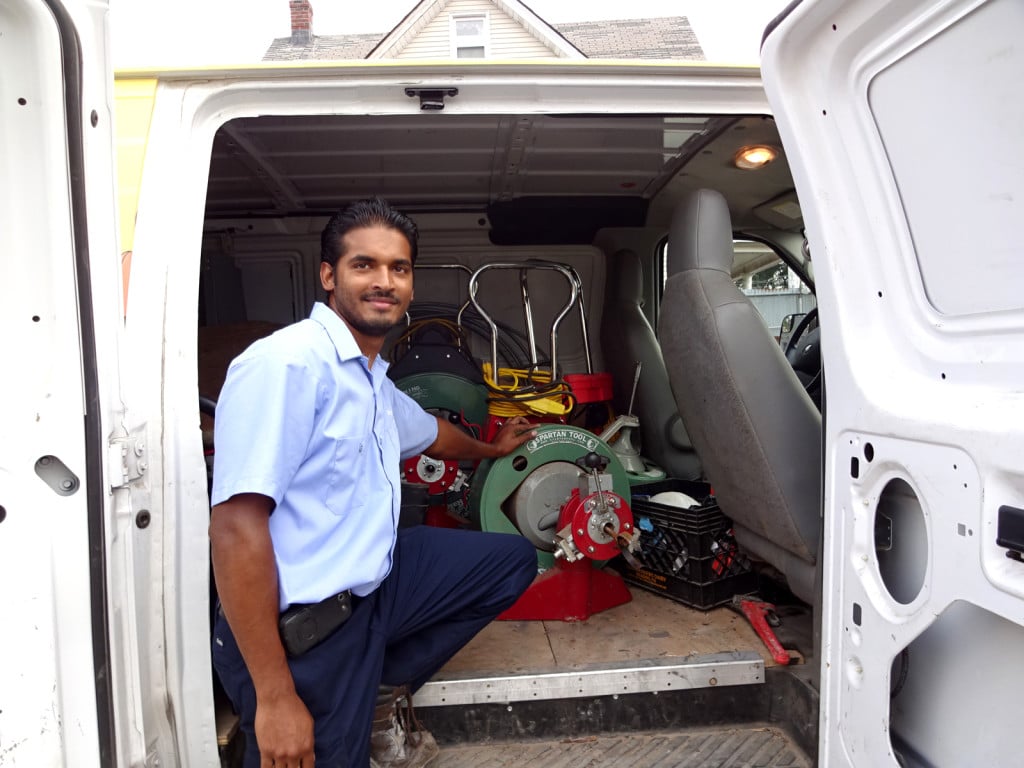 Water Jets
A water jet or a hydro jet clears and cleans a clogged drain. A modern water jet is preferred to a sewer snake because it removes virtually any stoppages. It's also great because it's less likely to cause damage to the older pipes. Water jets clear grease clogs and cut roots from the line without interfering with the pipe itself.
Drain Snake for Toilets
A drain snake is another tool you need to learn how to use as a professional, and it's sometimes called an auger. This professional drain cleaning tool dislodges and eliminates clogs in piping or drains. It's also great with severe drain clogs.
Sewer Flush Bag
A sewer flush bag is mainly used to clear and clean the drain in cases where a plunger and drain snake fail to eliminate stoppages in the drain. You'll encounter instances where you'll need to follow up with a sewer flush bag after cleaning a drain with a drain snake to achieve a cleaner finish. Therefore, a sewer flush will be of help when it comes to stubborn blockages.
Air Guns
An air gun is also a vital drain cleaning tool and can be used instead of chemical cleaners that require more time to break down the blockages. They're effective in clearing contaminants like grease and sludge from the piping walls.
Why Choose Balkan To Start A Drain Cleaning Job Opportunity?
Build Your Expertise From the Very Best Professional Technicians
Learning how to clean drains from the best professional drain technicians in NYC will allow you to gain valuable experience that will help you start your career or advance your existing business. Any plumbing company will offer you experience, but if you're looking to grow and advance your career in drain cleaning, you want to join a company that will help you gain valuable professional experience.
We ensure all our plumbing technicians attain meaningful and useful knowledge or experience in line with the plumbing career. This way, you'll gain all the necessary expertise you need to start, grow, or even advance your drain cleaning business.
Start A Drain Cleaning Job With a Leading Company in New York City
There's nothing more fascinating than getting experience and advancing your career in an established company with excellent reviews. Balkan is just exactly that, as the year 2022 actually marks our 70th year in business. Working with Balkan gives you a rare opportunity to learn various drain cleaning skills at NYC's leading company. Balkan Team has many transferable skills to help you have a successful start to your drain cleaning job and career. In addition, working for an established company will help you attain more confidence in your plumbing and drain cleaning skillset.
Learn How to Attend to Drain Issues by Joining the Balkan Drain Team
Balkan is a premier drain cleaning service company in NYC. We believe in offering high-quality and timely services to our customers. We, therefore, strive to provide superior training to those who wish to join our team of experienced drain technicians or want to advance their careers.
By learning how to clean drains, you'll join the Balkan Team of professional drain technicians, the very best in NYC. So, are you ready to take your next opportunity and become a plumbing expert? Contact us today at Balkan Sewer and Drain Cleaning. Balkan is a land of opportunity!