Having a new washing machine, or upgrading to a newer and better model, brings the promise of more effective wash. many models also promise a quicker laundry cycle.  Cleaner resulting laundry is also a common outcome as well. Some TV commercials even go further by suggesting that certain washing machines make people happier when they do their laundry! The commercials are not entirely incorrect, but most of the time they skip the part where you need to figure out the plumbing. Connecting your appliance properly so it works as advertised is a vital part of the deal. That is when connecting your washing machine drain hose correctly becomes important.
Washing Machine Drain Hose Connection Options
There are two common methods to connect a washing machine drain hose to your home plumbing. Typically a washing machine drain is connected to a dedicated vertical drain pipe, or hung over a slop sink.
Slop Sink Connection
A slop sink (utility sink) is an easy but not recommended way to connect a washing machine drain hose. With this type of installation, the drain hose is connected directly into a wash basin. Typically the hose is hung from over the side, and then over the top rim of the sink. It is important to have a sizable air gap between the end of the drain hose, and the bottom of the sink. An air gap prevents backwater from ever getting sicked back into your washing machine.
In some cases, the size of the drain pipe from the sink drain may not large enough to handle the amount of water drained from the washing machine. If this is the case, the wash basin will flood or overflow and water fails to drain. So first off, make sure the sink is designed to handle the flow of water being pumped from the washing machine. Secondly, make sure if there is a sink strainer, that it is cleaned regularly, or removed. A clogged sink strainer can result in flooding if the sink basin overflows.
Dedicated Drain Pipe
A stand-alone connection to a washing machine drain hose is the most desirable option. This means the drain pipe is indeed designed to handle the kind of workload or volume of water typically drained from a washing machine. A dedicated drain pipe is usually a larger diameter than a typical sink drain. It is less likely to clog, or dislodge. It usually also connects at a higher elevation, well above the machine itself, another advantage.
Regardless of the type of connection, always follow the instruction manuals included in the washing machine package. Take care to be especially careful with the connection length, height, materials, fittings, and other configurations. Failure to comply with the recommended installation configuration can result in poor draining. When pressurized waste water is being pumped out of a washer, poor drainage can mean flooding in minutes.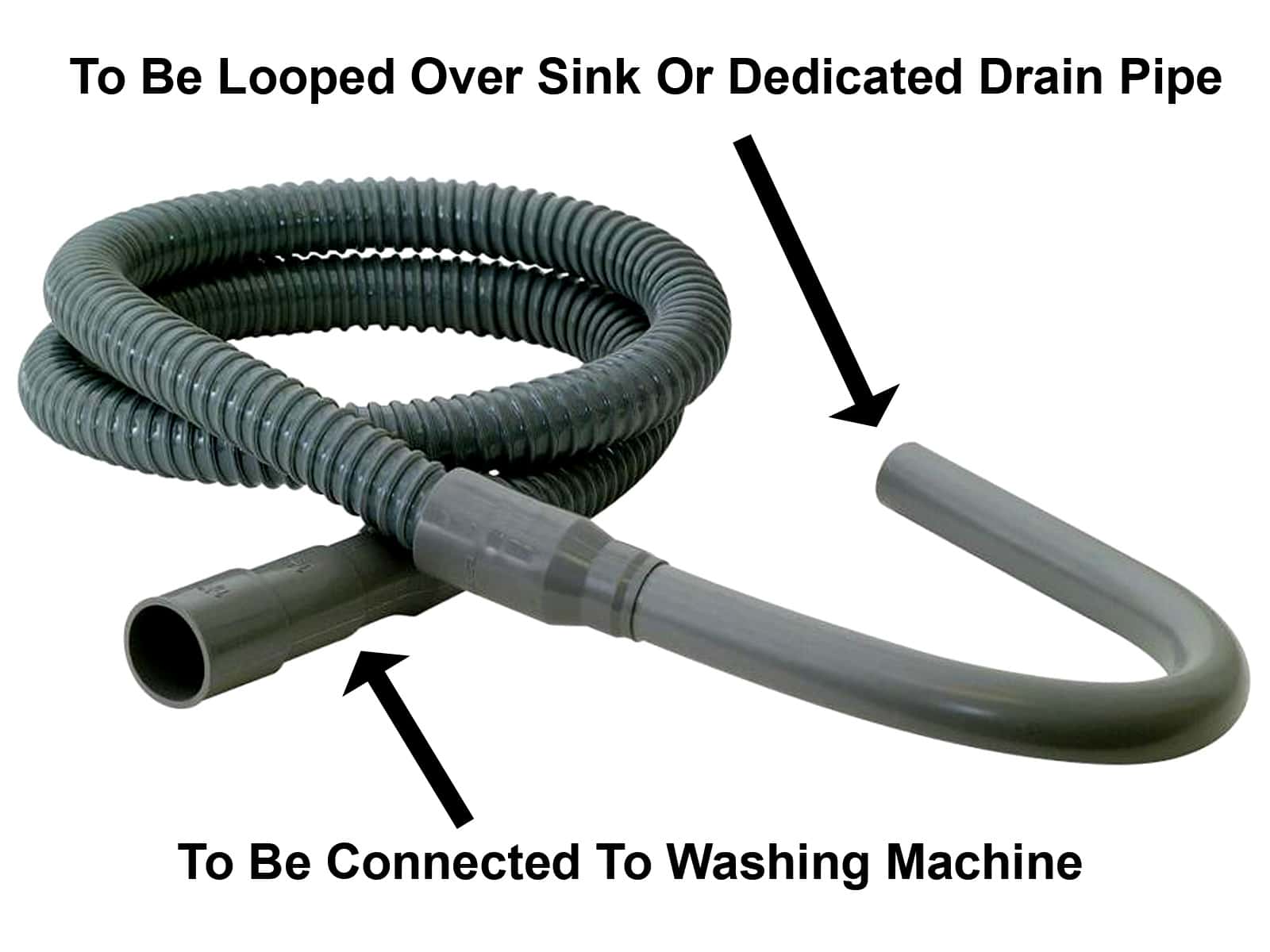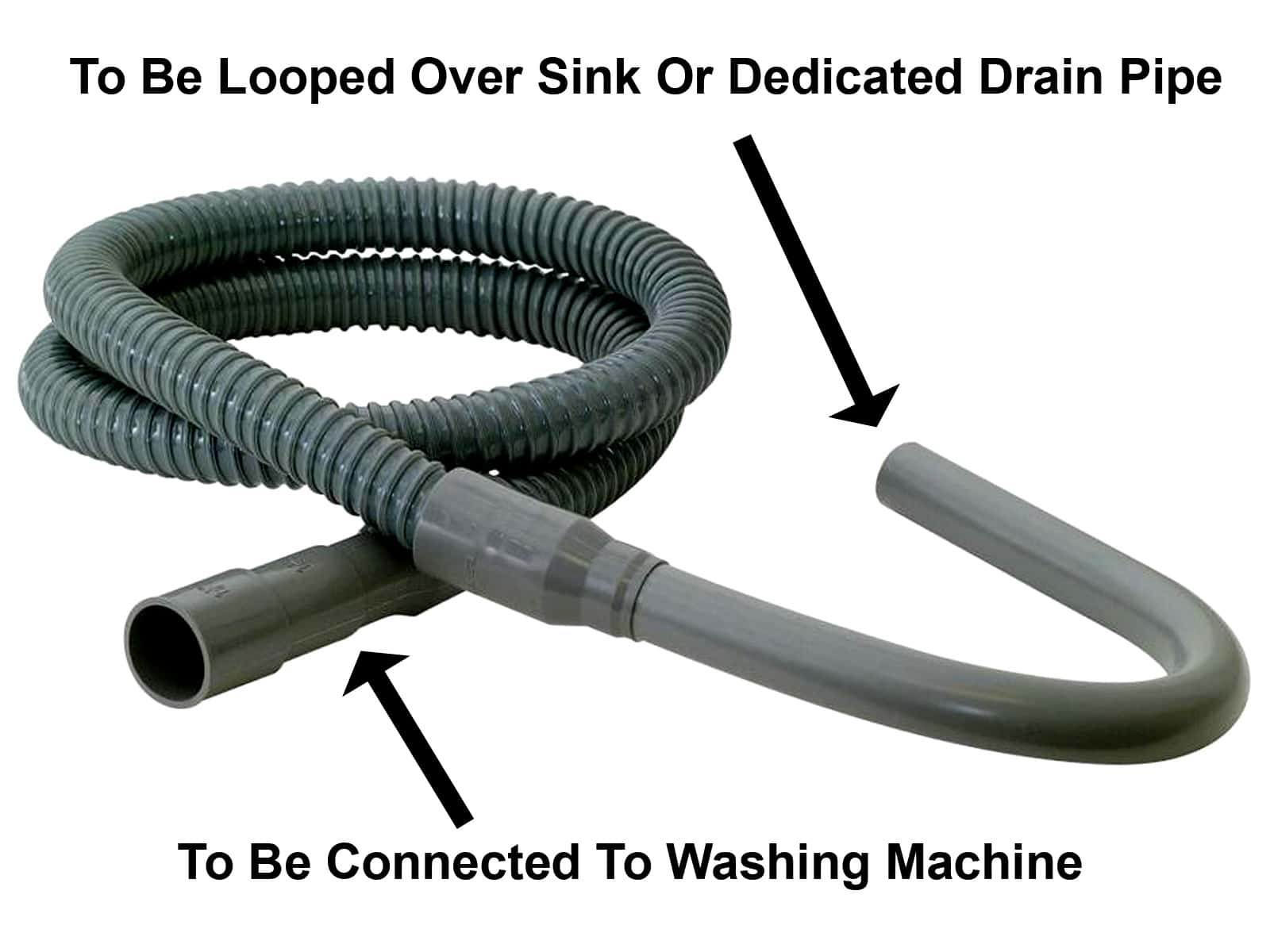 Washing Machine Drain Hose Maintenance
While the hose connection seems like a one-time setup process, it does not mean you can ignore the importance of keeping the hose clean and securely attached. Once you have it installed and connected, you can add a filter at the end of the hose drain. You can use a homemade filter – such as an old sock or pantyhose – or purchase a ready-made filter made of aluminum or nylon. The filter prevents lint and dirt from your clothes from getting into the drain pipe, accumulating on the inside surface, and causing a blockage.
It does not matter if you use a homemade or commercial filter, make certain that you remove the filter periodically. Depending on how often you use the washing machine, do not exceed a period of 60 days to do a cleanup and install a replacement if need be. Most of the lint and debris will accumulate on the filter, so you can clean it by spraying water from garden hose. There can be a good amount of debris at the bottom of the washer as well. It needs to be cleaned thoroughly to ensure proper draining from the washing machine. Debris of any sort, both on the drain pipe or the hose, can cause clogging and overflow.
Common Materials for a Washing Machine Drain Hose
Stainless Steel Braided Drain Line
Just because it says stainless steel, it does not mean the material is as rigid as you may think. In fact, the inner material is plastic but wrapped with flexible stainless steel mesh wire. It is the more preferable material due to its resistance to twisting, cutting, bursting, and other physical damages. Some brands actually label their products as "burst-free" too.
The more affordable alternative is the rubber hose. It has been around for many decades, and the newer models feature braided polyester mesh or rayon for increased strength. In case you want to go a rubber hose, make sure you pick one that says "reinforced" with either of the stated materials for more durability. Rubber washing machine drain hoses are pre-formed for their intended use.  You do not have to do any fabrication, or form work.
When connecting a washing machine drain hose to a dedicated pipe, the fitting between the hose and pipe must probably very tight. In such a scenario, you need proper venting to prevent the possibility of a vacuum which will obstruct water flow. Creating a separate venting for a washing machine, although possible, is not necessary.
Most homeowners actually prefer to use a common vent stack that also connects to other fixtures. However, it is crucial that you connect the vent at a point above the flood-level rim of the highest-located fixture in your home. Venting is crucial to avoid flooding and overflow, but unfortunately the installation process is not always easy. Be sure to know when to call professional for assistance if you bump into difficulties. Feel free to contact the Balkan Drain Team for any of your drain line issues, and for expert advice.