If your basement floor drain has ever clogged, you know the damage that it exposes you to. Yet your basement floor is the part of your property that is most prone to backups drainage clogs. The blockage can be caused by storm water, debris, or overflows from other drainage units on your property. Therefore, it is important to ensure that the basement floor drain is in good condition by regularly inspecting it and removing blockages. Not only will a visual inspection save you from a drain calamity, it may also unveil other drain pipe issues. As your floor drain is the lowest point on the drain system, it is the 1st to show signs of a backup.
Basement Floor Drain Clogged Remedies
Basement floor drains can be clogged by oil, fats, grease, or sediments from storm water. Balkan Drain Cleaning uses powerful tools to clear your basement floor drains. We use the Spartan power snake to remove blockages. The snake has a forked front end that is used to drill through the clog. The Spartan snakes use electric power to drive the augers, leading to a more efficient job than manual drilling.
The Balkan Drain Team removes floor drain clogs that are too tough for the power snake with a water jet. The water jet sprays high-pressure water in the drainage pipes removing even the most stubborn grit, grease, and hard clogs. Out Team uses Spartan jetting machines that are ideal for removing fat layers, grit, and sediments. Each Tech carries a wide range of nozzles for different types of pipes and drainage problems. Our water jets are large and truck mounted, and capable of up to 3,000 PSI. This makes our machines suitable for large commercial properties, such as restaurants or apartment buildings.
Sometimes the blockage is caused by tree roots. In such cases, we assess the damage to the drainage pipes and replace those that are beyond repair. If the pipes are still in good condition, we may use chemicals to kill the roots. We then use a high-pressure jet to clear the roots.
Inspecting Basement Drains with A Sewer Camera Service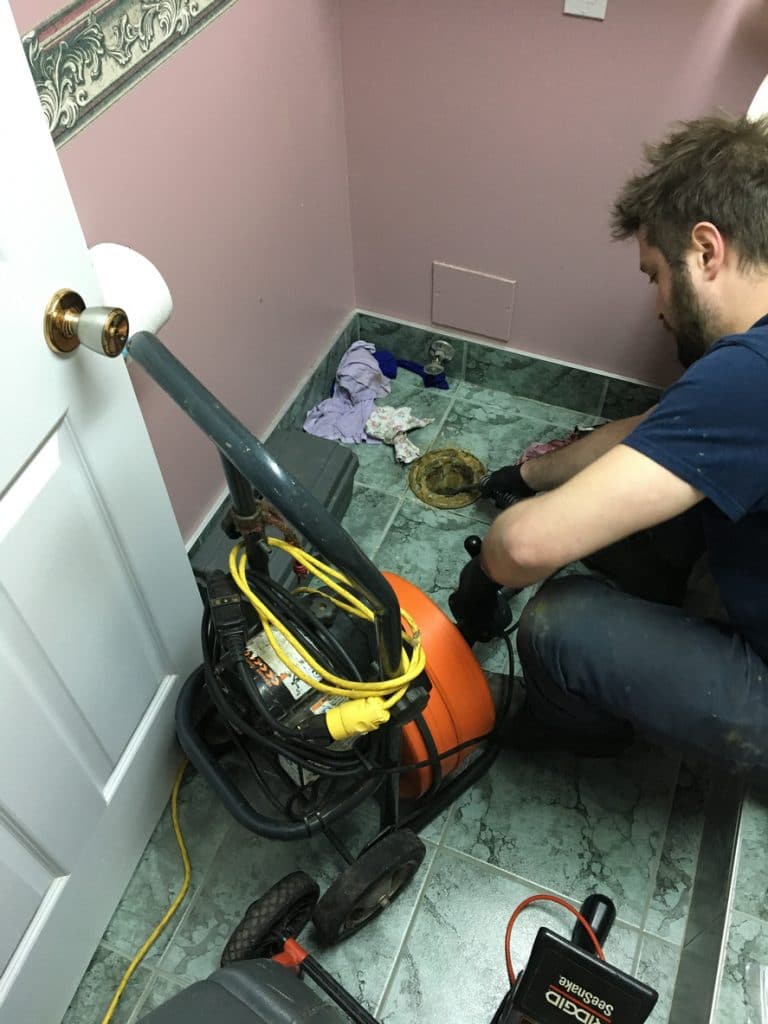 Balkan Drain Cleaning uses specialized HD video cameras to inspect the inside of your basement drains and determine if there are blockages and damaged pipes or joints. In some cases we can even place the camera at the end of a Spartan snake line. The camera has a locating beacon and a detector. The two tools work together to determine the exact location of the pipe damage or blockage. Our modern cameras also pinpoint the depth of the pipe itself.
Sewer cameras are a valuable resource when repairing basement drains because they can pinpoint the problem and save you the trouble of checking underground pipes manually. The cameras have a flexible cable that easily navigates through a maze of drainage pipes.
Sewer Jetting to Clear Basement Floor Drain Clogged
Grease clogs in floor drains are a common issue for most property owners. Grease clogs are a result of cooking fats, soaps, and detergent waste accumulating in the drainage system. When you drain water, the fatty content hardens after coming into contact with cold water. It forms a coating on the surface of the pipe, which thickens with time to form a blockage.
Drainage clogging can also result from corrosion in the pipe due to human urine. The calcium and magnesium in the drainage water react with fats to form a thick layer of grit. The blockage prevents water from passing through, leading to an overflow.
Grease clogs are messy and hard to deal with, but our experts know how to handle them without damaging your property or causing unnecessary overflows. We remove drainage blockages and clogs by sewer jetting. The process involves washing away the grit or grease layers with a high-pressure water jet. We use powerful machines that generate high pressures and clear out any type of clog inside your drain pipes.
Experienced Techs with Specialized Nozzles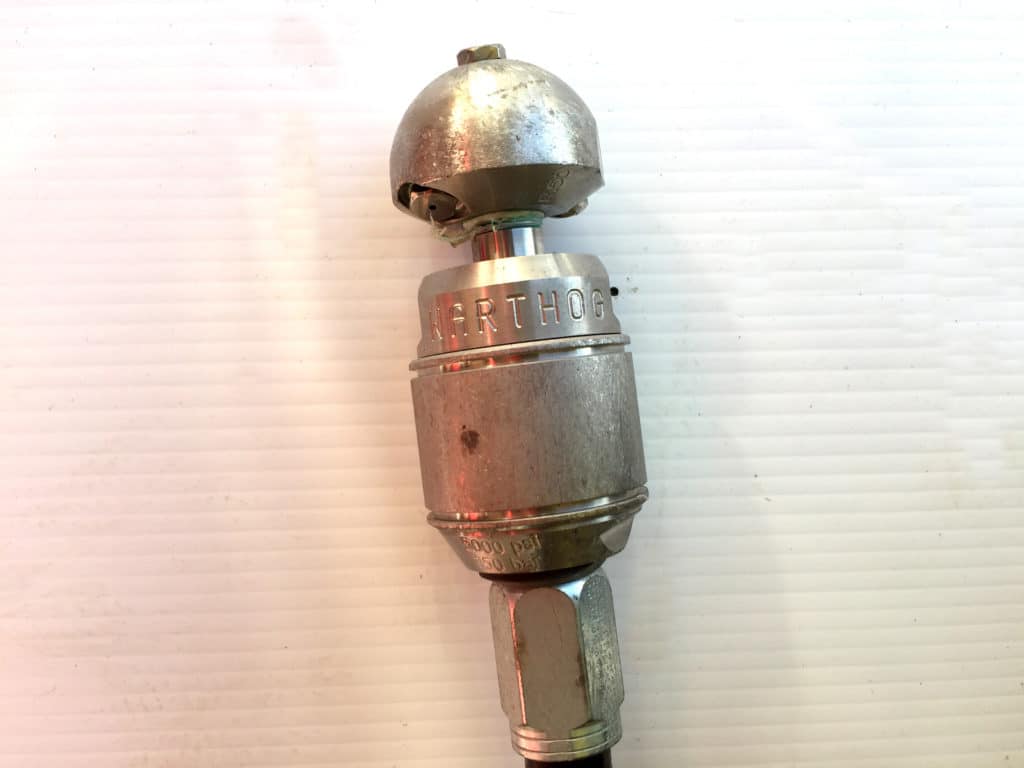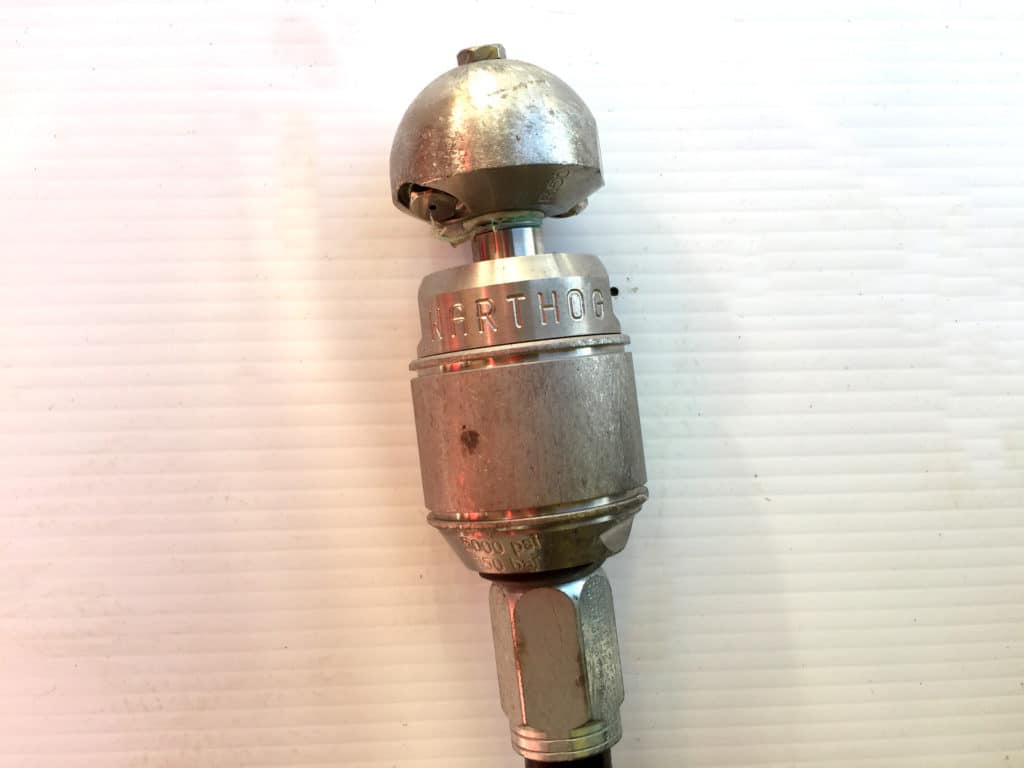 Our skilled staff knows the various types of nozzles that will work for blockages of varying thickness. The type of water jets we use can clean large drainage pipes, including those used for commercial properties. For single households and small properties, we use smaller jets mounted on a van or a cart. The machine pushes high volumes of water through the nozzle to generate pressure.
Our high-pressure machines not only remove the most stubborn clogs but also destroys tree roots. The advantage of high-pressure jets is that they clean the walls of the pipes, making it easier for drainage water to flow and reducing the chances of a future blockade. Since the hose is very thin, it can reach all parts of the drainage pipe including bends and P-Traps.
Sewer Smells from A Floor Drain
Basement floor drains are bound to smell after months of use because they channel different types of wastewater from your property. The smell only gets stronger if there are grease clogs and other forms of a blockade. Balkan Drain Cleaning will first inspect your floor drain system to determine the source of the smell. If there is a blockage, we clear it with our powerful snakes and water jet machines. If it is an odor problem, we clear it with bleaches and other solvents. Sometimes we install a soil vent pipe (SVP) to direct the odors underground.
Rehabilitating or Building New Floor Drains to Code
Sometimes parts of the floor drainage system need replacement. This is often the case when whole pipes are corroded or the floor drain backup needs repair. Other pipes may be damaged by roots and have to be replaced to stop clogging and leakage of wastewater. In cases where most of the pipes are damaged, you may need to build new floor drains.
Our expert plumbers understand the NYC drain requirements and will build a new floor plan that is compliant with local codes. We will make adequate floor pipes, including trapped and vented drains. For large properties, we install floor drains for each unit to reduce the risk of clogging. We size the floor drains to suit the intended use and ensure that all floor pipes meet the minimum standards. We also understand the special requirements for food establishments and ensure that they are of the appropriate size and comply with the code.
If your basement floor drain clogged, you could have a problem with flooding due to overflows. The risk is especially high if you store valuable items in the basement. Balkan Drain Team is your local floor drain expert in NYC. We Guarantee to be at your door in 4 hours or less and have fully stocked trucks that will handle any drainage problem.