The Village of Freeport is a relatively small community in Nassau County. Like many small neighborhoods, emergency service from a plumber may not always be readily available. So it's good to know when a plumbing issue does arise, what truly constitutes a "Plumbing Emergency". Some plumbing issues are so relatively simple that it does not take a professional to handle. For example, a faulty shower head, rusty knob handles in the faucet,a  clogged toilet, and so on. These problems are easy enough that even a lightly skilled homeowner can repair them easily. Besides those easy fixes, you may have to deal with occasional plumbing emergencies by being pro-active. Some helpful tips follow on how you, even with limited plumbing knowledge, can help yourself sometimes.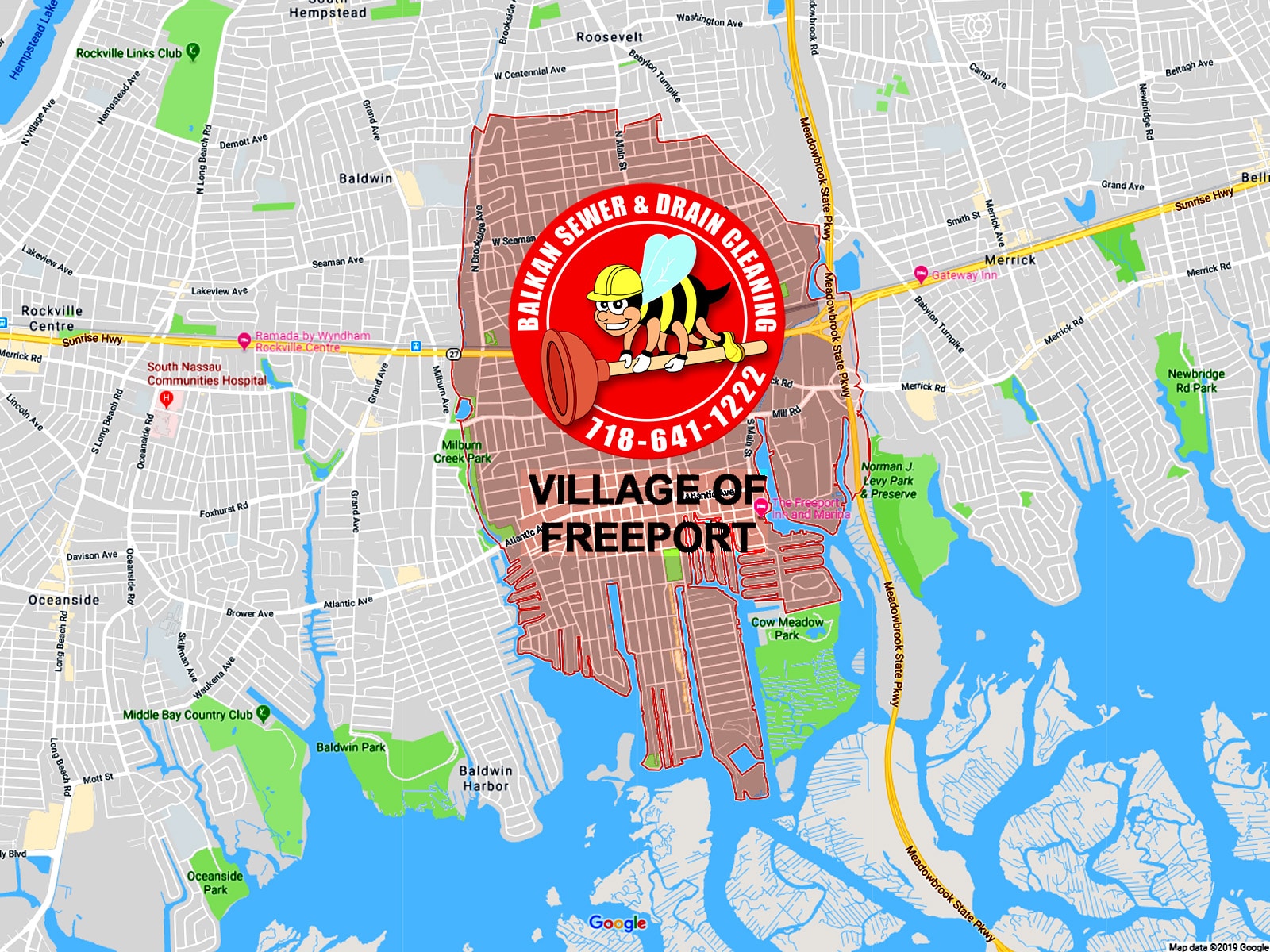 The Balkan Drain Team has the Village of Freeport covered (courtesy of google maps)
Dealing with a Plumbing Emergency

Not only do you have to call professionals to repair a plumbing emergency, but you need to do it right away to prevent plumbing disasters. In situation like this, you'll probably pay a premium for off-hours service. So be well aware that not everything is considered an emergency. But also note, even small issues can turn into difficult situations. Whether or not your plumbing issue is an emergency is determined by the following 2 core factors.
1. What Is Your Tolerance For A Waiting Time For Service?
If you can wait until the next day to call a plumber, then your issue is not actually an emergency. That applies even if the damage involves a main sewer line, vent pipe, or a running toilet. A problem is only urgent when you need to call a professional immediately, and require service no matter the time of day. A clogged toilet, for example, is one of the most common cases of a plumbing emergency. However, if you have another fully-functional toilet, you probably can wait a little bit longer before you call a plumber. Also, as noted below, if you can shut the water valve for that toilet the issue is no longer pressing, it is simply an inconvenience.
 On other hand, a leaky faucet is simple and rarely regarded as an emergency issue. That being said, you may have to call a professional right away if the leak is too much. That can happen if there is a leak that cannot be isolated. In certain rare instances you can have a flooded kitchen within a couple of hours. The particular circumstances determine the level of urgency.
2. Will Closing Your Shut Off Valve Stop The Emergency?
 You can stop (albeit temporarily) some of the most common plumbing issues such as a running toilet, leaky faucet, or burst branch line, by shutting off the water supply valve. With that in mind, even the worst and heaviest leak is easy to stop. Having your water shut for a few hours is a small inconvenience, compared to an ongoing plumbing emergency.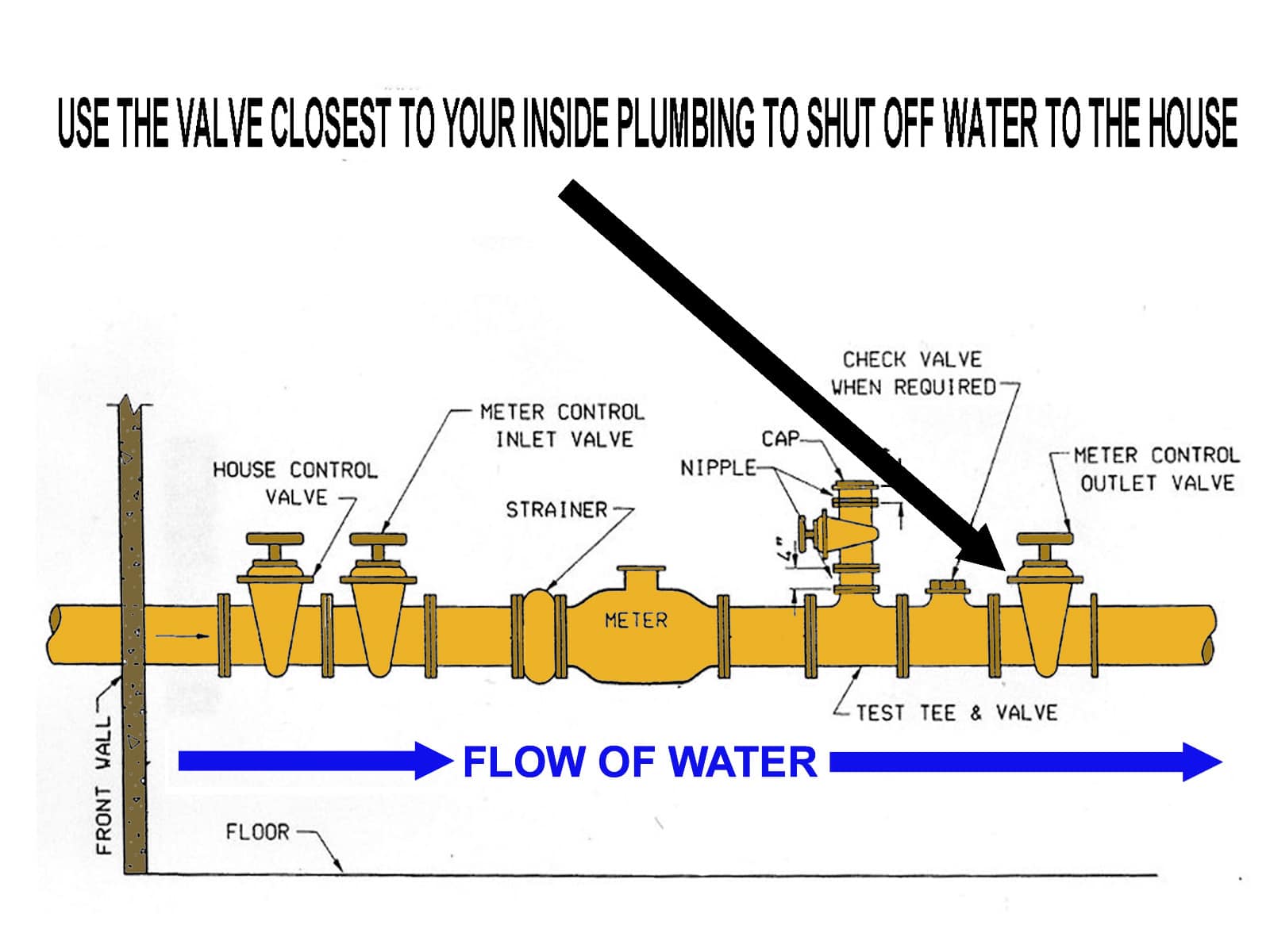 Always close the valve closest to the inside of your home. There should be a shut off valve specific to a fixture. If not, close the main shut off valve which closes the entire water supply to the house. If closing down the former does not help, you may have to turn off the latter. Closing the main valve may render some fixtures useless. This would prevent you from using your shower, bathtub, washing machine, dishwasher, or even lawn sprinkler. A good idea would be to fill your bathtub and some water containers beforehand. This would allow you to wash and flush your toilet manually while the main valve is closed. 
If you do close the main valve awaiting service, your boiler should be able to run safely for a number of hours without worry. Once again, every situation is different so you need to assess the circumstance to decide if it is time to call a plumber.
Water Damage Prevention
 Let us assume that you can wait until the next day to call a plumber. There are two possible end results with this approach. Either the problem is indeed not that bad, or you allow it to become more serious and expensive to repair. It can also be either you know the issue is simple enough, or you are being ignorant of the repercussions. In reality, and regardless of the situation, repairing the problem as soon as you find it, or calling a plumber to do the job is the best approach to take. Instead of letting a small issue grow into a major annoyance, it is always best to address it immediately for the sake damage prevention.
Minor plumbing problems are easy, quick, and affordable to fix. On the other hand, you may have to spend much more money just because you decide to wait a little longer than you should.Consider that there are potential issues besides the visible physical damage. When ti comes to water, there is always the risk of unseen water damage and mold. Mold in particular, if left untreated, can devastate your entire home. In severe cases the issue can become beyond remediation, and result in reconstruction.

Your Water, Sewer, Drain Emergency Plumber in Nassau County and NYC
One of the best things about Balkan Plumbing is the way the company sets up its entire fleet. All units are fully equipped vehicles, with technicians all across its Nassau County and NYC coverage area. A central dispatch system connects to all vehicles and will send one nearest to your location with the help of GPS. More importantly, Balkan Plumbing also provides after-hours services 7 days a week at no additional cost. The company handles all of your water line, sewer, and drain emergency situations in the same professional straightforward manner as it deals with regular business-hours duties. Contact Your Balkan Drain Team for prompt, courteous, and professional service.

A little bit about the Village of Freeport
The Incorporated Village of Freeport is located in the town of Hempstead, Nassau County. It is on the South Shore of Long Island, and has a population of around 45,00 people. It is a Village known for its waterfront attractions during summer, and a vibrant nightlife. Like many relatively small communities, it is everybody's duty to keep the neighborhood's sanitation and particularly water quality at its best condition. Individual Homeowners and Business owners take part in maintaining water cleanliness by paying attention to their individual properties, and their plumbing installations as well.