When your sewer clogs, it can lead to serious problems that can become a health risk and a plumbing emergency. As you probably know, wastewater can back up when there's no passage to your sewer system. It can get up through your floor drains, or any other easy access point. Some of the ways the stoppage can be cleared include sewer and drain snaking, high-pressure sewer jetting, and using pressurized air, as well as carbon dioxide guns. Complete sewer cleaning services will use a combination of these methods as well as tools to clear your drainage and sewer clogs.
Sewer and Drain Snaking
Clearing the stoppage in your main sewer line is the solution to making your drainage work well again. You may need to call an expert if you are thinking of using a sewer snaking method. The snaking method requires looking for the main drain out as well as removing the drain out cap. A snaking machine cable should run towards the street in case there is standing water. If the toilets are stopped, and there's no standing water, the cable should run towards the house.
The drain snake needs to be closer to the clean-out, so the cable does not tangle easily. The head cable is put into the clean-out, and the machine is turned on. Holding the cable tightly with both hands ensures safety. The cable is slowly fed into the drain. In the case of a tough clog, the process is slowed down. The cable is moved back and forth repeatedly until the clog is cleared. Flushing the toilet a few times will also confirm if your drain system is running properly and the blockage is cleared.
High-Pressure Sewer Jetting
Sewer and drainage systems can be cleaned with high-pressure water coming from special jet nozzles. Sewer jetting dislodges obstructions as well as clears blockages. It is a method that is used to perform regular drainage maintenance and prevent sewer backups. It keeps storm drains and your sewer lines in perfect condition. Sewer jetting removes materials like mud, dirt, fats, sludge, minerals, tree branches, as well as roots. It's also a fast and more straightforward method of cleaning your sewer and drain lines.
Pressurized Air and CO2 Drain Guns
A carbon dioxide drain gun is a method that clears a condensate line using pressurized carbon dioxide air. The pressured air dislodges clogs from pipes and clears all the unwanted materials using the burst of air. It can clear all sorts of clogs in your pipe.
Tools for Cleaning Your Sewer and Drains
Having clogged drainage can be an unfortunate event, but it's common in many commercial as well as residential areas. You will likely need drainage services at some point. Arranging preventive measures each year will reduce the emergency plumbing needs that may occur.
Whether your sewer system needs regular maintenance or fixing clogged drainage, you need to rely on the right tools. Professional and licensed sewer cleaning services like Balkan have the best tools for clearing your drainage in Brooklyn, Queens, Bronx, Manhattan, as well as Nassau County with 4 hours or less response time.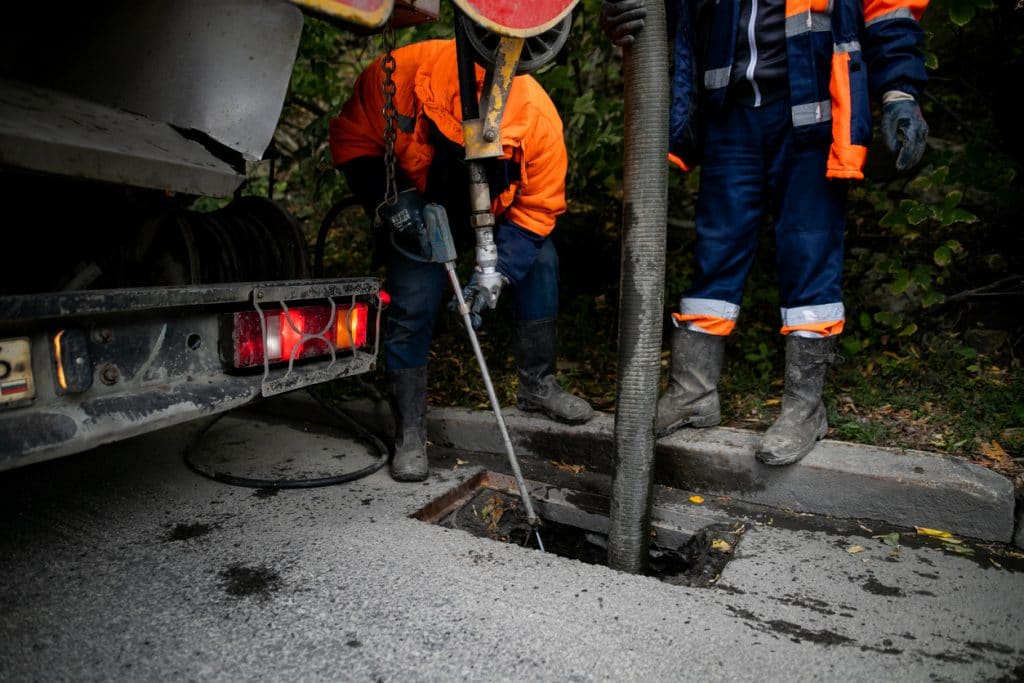 1. A sewer jetter
This is a powerful machine that can unclog your sewer and drainage using high-pressure water. It works on both large and small systems. Sewer jetters use high-pressure water that has no chemicals, which makes it a simple, safe, and efficient cleaning method.
Up to 1500 gallons of water can be mounted on a truck for large cleaning jobs. Trailers or vans are other options for mounting a sewer jetter, depending on the size of the work that will be performed. It has a pump, engine, reel, hose, and motor. It includes portable water sources like water tanks.
2. Snake auger
A snake auger is a flexible drainage cleaning tool. It comes with a grip handle that you need to hold firmly and push the wire down the drain. Some snakes come with a small clasp that you can grab and remove all the clog and materials that blocking the water flow.
3. Plunger
A plunger is a common tool used to release backup for your drainage to work properly again. They came in different sizes, and you can select one that will work for the size of your drainage. This is a simple tool but very effective when solving simple and common drainage problems.
4. CO2 drain gun
A drain gun comes with a carbon dioxide cylinder and a hose. It clears condensate drain with pressurized carbon dioxide that pushes to remove the clog.
5. Video pipe inspection
This tool does not do the actual cleaning, but it speeds up the cleaning process. A miniature camera is mounted on a long cable. So that the experts can get a good look at the condition of the pipes that should be cleaned.
Professional plumbers use this tool so that important information like areas that should be spotless are discovered. It also helps in understanding the appropriate tool that needs to be used in specific areas. After using the correct tool to do the job, the camera helps check how well the work has been done.
A Conclusion To Your Sewer & Drain problems
Balkan is your local and trusted waterline and sewer cleaning services provider. After almost 70 years and over 70,000 customers, Balkan is the team you trust.
Professionals provide sewer cleaning services using various methods to unblock sewers as well as drainages depending on the type of clog. Methods like snaking, using pressurized carbon dioxide, and sewer jetting are effective ways of removing backup. The right equipment for doing the work will make the cleaning process easier and faster. When in need of sewer cleaning services in the NYC area, count on Balkan Drainage Team.