We do it with a great team. This month, we are welcoming our 8th drain service technician to the team. That's right, number eight. Our growing company offers the most dependable and professional drain service throughout NYC. In addition to our existing level of service, we are now able to help even more customers simultaneously during our new technician 's shifts on the route.
Balkan Sewer & Drain Cleaning has been serving the NYC public for 70 years. Founded in 1952, we practically know every pipe in the city by name. We've been serving residents, businesses, industrial facilities, and city infrastructure, building a name that you'll hear called any time there is a backed-up drain or sewer clog in New York City. From over 70,000 customers served, we've built a reputation for expertise and responsiveness. Our lines are always open.
You can call Balkan 7 days a week. Call us on weekends, holidays, as well as after-hours. We'll still guarantee a response time of 4 hours or less between call and service. Why we do it is because we care about our clients and know how big an emergency a drain or sewer problem can really be. What everyone should be asking is how we achieve our consistent level of responsive service.
Growing Our Team and Expertise
The drain service expertise here at Balkan Sewer & Drain Cleaning is considerable. The Balkan family alone represents decades of experience poured into understanding and working with the unique drain issues of a historic yet living city. It also takes a lot of knowledge and solutions to deal with the kind of sewer blocks and household plumbing that we have seen over the years.
The Combined Knowledge of 8 Drain Service Technicians
We bring the full weight of that expertise with us to every client. With each vehicle connected to live dispatch, each drain service technician is backed by the rest and a solution to any sewer problem, no matter how tricky, can be found. By pooling our knowledge, we know that any drain or sewer problem can be tackled and solved.
With the addition of the 8th drain service technician to our numbers, we only increase our range and the experience we can bring to bear on each client's drain or sewer problem. An 8th drain service technician adds yet more years to our knowledge base. When they are on shift, they can help yet another customer simultaneously with the rest of the fleet. And when there is a tough problem to solve, that 8th drain service technician brings one more clever drain expert mind to bear to find the solution.
The Balkan Advantage
4 Hours or Less from Call to Service
Available 24 Hours, 7 Days a Week
Available on Weekends, Holidays, and After Hours
Of course, our 8th drain service technician should come as no surprise for those who are personally familiar with our company. Balkan has always been dedicated to company growth in order to meet the infinite needs of the city around us. The one thing we know about drain cleaning from a customer's viewpoint is that waiting for a technician can be a rough several hours. Sewer problems can also put your home at risk. Our clients might be dealing with a hazard, worsening property damage, as well as biologically unsafe environments. We know that the faster we can get a drain service technician out to their location, the better for everyone.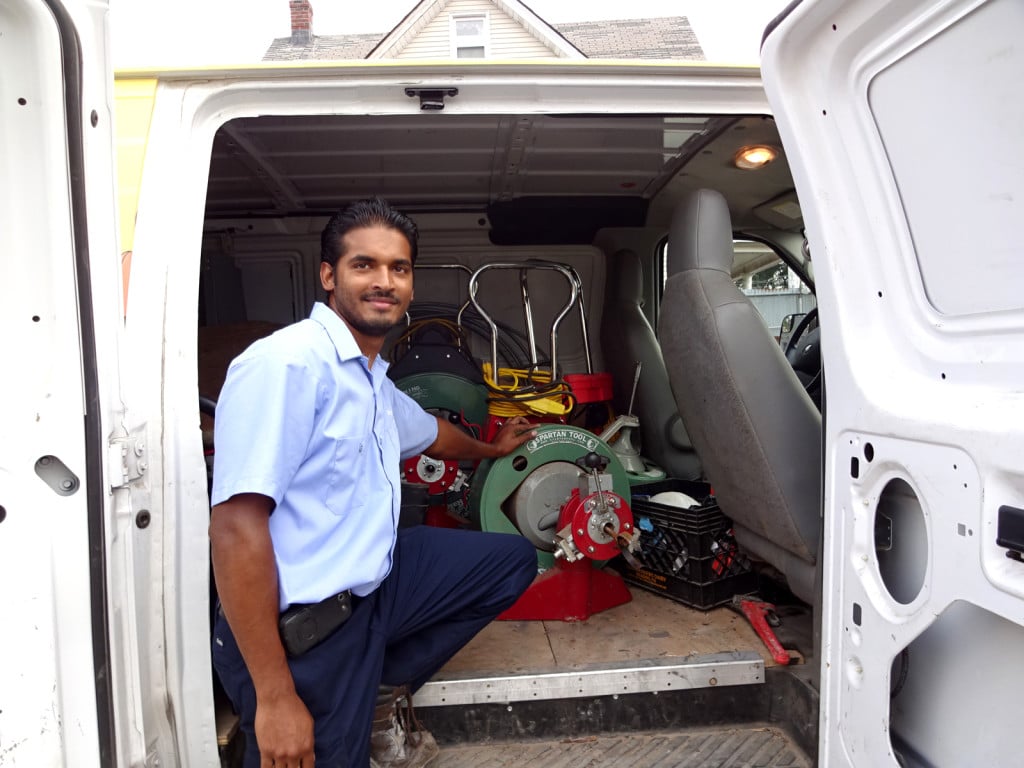 The 4-Hour Guarantee Response From A Drain Service Technician
That is why we build the Balkan Advantage. When clients call Balkan, they can count on a few guarantees that we will always come through. You can count on us sending a technician to your door within 4 hours of your call. We do this with a robust and responsive team of technicians already dealing with drain problems and ready to deal with yours. Adding one more technician to our forces means one more person available to help immediately when you call.
Call us now! You might just get a chance to meet our newest drain service technician within your four-hour window.
The Balkan Difference: Service Available 24/7/365
Another Balkan advantage is that we are available rain or shine, every day and hour of the week. While we do have official business hours, we know drains don't care about the clock or who is on duty. Drains break on their own time. And if that seriously impacts your home or business, that's what your day is about until it's fixed. So whenever you call, we'll have someone ready to answer and ready to send. Weekend drain cleaning and holiday sewer repair; emergency drain services are just part of what we do. We figure any day a drain can back up is a day we're on the job.
Continuing to Grow and Serve NYC Communities
We are proud to add another member to the Balkan team. New York has millions of drains scattered over 300 square miles. With a service area like that, we need all hands on deck, and as many hands as we can get. This new addition to our team is one more reason that we can get to our clients fast and provide the best possible drain cleaning and sewer repair solutions. From our excellent dispatch team to our fleet of drain cleaning technicians, every member of the team plays a vital role in transitioning your drain problem to a drain solution.
You can count on Balkan Sewer & Drain Cleaning to have your best interests at heart. We know what it's like to have a drain stop working on your property or, worse, start backing up from the sewer. Homeowners and business managers alike are then tied to the problem until a drain service technician can come out to solve it – whether or not the drain's schedule works for you.
If you are currently having drain problems or are concerned about your sewer line performance, contact us today. Talk to one of our great dispatch team members and figure out everything you need. If you book repair service, you might just meet our new team member.