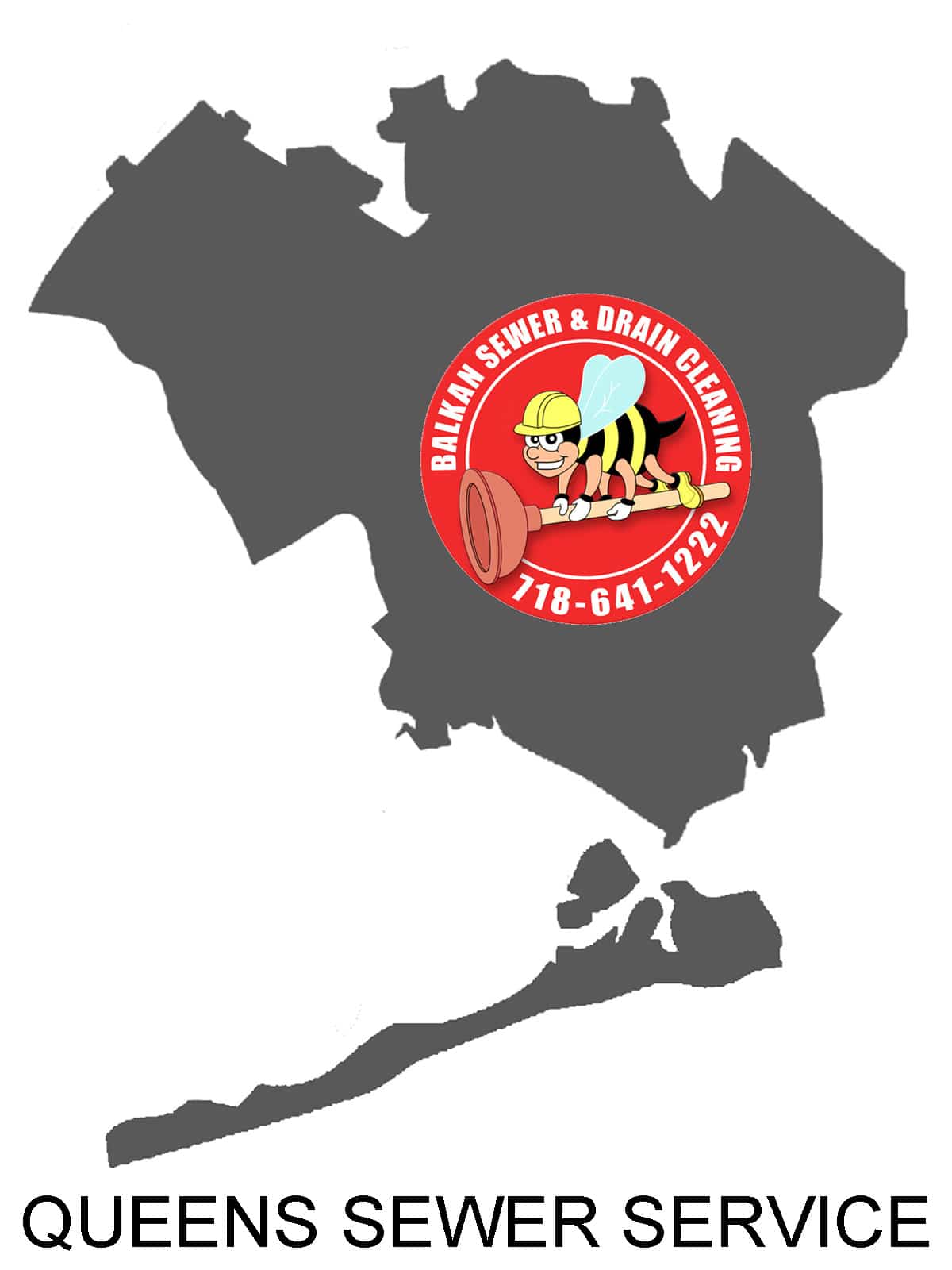 As you may know, Queens, located in New York City, is one of the most populous and densely populated areas in the United States. The population of Queens presently exceeds 2 million people, with a density of over 21,000 people per square mile. If you are a resident, you are well aware of the population explosion. And just like all other cosmopolitan areas in the world, population growth is often followed by complex problems involving housing, transportation, pollution, employment, plumbing, etc. You may therefore require Queens sewer service more frequently than ever before. The Balkan Drain Team has established itself as a trusted and dependable remedy for your Queens drain problems, and the other boroughs of NYC as well.
On the list of your daily worries as a homeowner, plumbing is probably your most overlooked issue of them all. It may not sound to you like an immediate emergency that needs to be addressed, but a malfunctioning plumbing installation poses serious health hazards for you and your family. A drain clog, or a sewer leak issue, can contaminate your water supply, make your home unsanitary, and is a general nuisance.
While a damaged plumbing system can cause you anything from a minor inconvenience to an interruption in service. Something as simple as an improper P-trap, or sewer plug fitting, can release toxic gasses from out of your drain system. All of these issues make it important to know who to trust for your Queens sewer service.
Why trust Balkan for your Queens Sewer Service needs?
You are typically responsible for the plumbing installations in your dwelling. However, these installations have carefully designed code requirements set by various government agencies. These carefully designed requirements ensure your health and safety. Code requirements also ensure the integrity of your plumbing system. Therefore, by you being "responsible", it means you must make sure the plumbing system works as intended. This may involve regular maintenance, repairs, and parts replacements.
Obviously not everyone can learn about plumbing overnight, or take a "crash course". More often than not, if you are a DIY homeowner, your plumbing remedy typically results in more damage and future problems than you ever solve. It is a hard lesson that many people seem forced to learn over and over again. This is a main reason why it is always recommended to hire a professional Queens Sewer Service to handle your plumbing work. Fortunately for you, and all the residents of Queens, Balkan Plumbing is conveniently located at Richmond Hill.
Balkan has easy access, and provides you with a fast arrival time to every corner of the borough. You are assured of a fair rate, and uniform as well. You will always receive special consideration as a fellow neighbor in Queens. Keep in mind that Balkan is owned and operated as a family business, and overseen by a NYC Licensed Master Plumber. Balkan has an extensive experience of more than 60 years, serving all areas across New York City. As a matter of fact, Balkan Plumbing is celebrating its 65th birthday this year.
Why a local plumbing service is your best option
There are probably literally hundreds of plumbing companies in the neighboring boroughs of Queens looking to serve you. Each service undoubtedly claims to be the best. What makes Balkan Plumbing different is the fact that it has been in business since 1952. That makes Balkan one of the oldest running subsurface plumbing and drain services in New York. Additionally, Balkan is one of the very few drain services owned by a NYC Licensed Master Plumber. The Balkan staff is comprised of none but dedicated professional plumbers and technicians. Each of our Team Members understands how the plumbing system in each neighborhood of Queens functions. An extensive knowledge over the span of six decades becomes the driving force to keep on providing  quality warranted plumbing services for you , and all the residents of Queens.
Another good thing you get from dealing with a local company is reliable communication. The Balkan Plumbing Headquarters is located on Jamaica Avenue, Richmond Hill, Queens. Balkan utilizes instant radio dispatch and a GPS-controlled fleet. It only takes minutes for Balkan to send a skilled professional to every corner of the borough. Balkan is ready to deliver quality plumbing and drain service to you, any day of the week even at after hours. As you, and probably all New Yorkers know, estimated time of arrival can sometimes be inaccurate because of traffic, weather, re-routes, etc. But, when a delay happens, Balkan Plumbing's GPS allows for updates to you with complete accuracy.
Dependability of service – day or night, holidays or weekends.
Your plumbing and drain issues can happen anytime, even in the middle of the night; and sometimes with no apparent previous symptoms. In most cases you will be fine to wait until morning, assuming you only have a minor issue, such as a slow draining sink. Anything more serious such as an overflowing toilet, gurgling sounds, or wastewater flooding your basement, is where a local plumbing company comes to your rescue. Please keep in mind that just because a company resides in your local area, it does not always mean it will provide you with quick, professional, and quality service. Being "local" does not ensure a well run, timely, and professional Queens sewer service. You still need to make a wise hiring  decision. And when is comes for you to hire for an actual plumbing service,  hire none but a licensed, bonded, and insured plumber to avoid problems.
90 Day warranties for you on Queens sewer service
Queens Sewer Service by the Balkan Team meets all the aforementioned requirements; moreover, the company is likely more experienced compared to any others in the borough. Balkan Drain Service also gives you a 90-day warranty period on all residential drain and sewer cleaning services. In the event you suffer the same problems occurs within the warranty period, the company will return and clean your clog free of charge. When you require replacement, and excavation work is necessary due to a faulty house sewer, Balkan Plumbing also offers you the same high quality service and dependability. Restoring your disturbed finished surfaces in theses cases is always part of the job. Restoration of your concrete and asphalt roadways is typically completed within 24 hours. A a plumbing service that does not perform restoration in a timely basis is not providing you with a complete service.
Accurate and Fair Price Quotes

Any reputable and professional company should be able to give you a fairly accurate price quote over the phone. But always be aware that the quote given to you is merely based on your explanation of the situation. In reality it can be difficult to give an accurate price without first-hand inspections. Bearing that in mind, Balkan is always determined to give you the most reasonable and accurate quote for every kind of Queens sewer service. Unless you have additional, or more serious problems, found during inspections in the field, the price given on the quote remains valid. Simply put, being up-front and honest with you, is a primary directive and company mandate.
Modern Tools and Equipment
The Joseph L. Balkan Inc. is the longest running subsurface plumbing company in New York, yet it continuously craves for improvements in all aspects of its service to you. All technicians hired are professionals, and trained to operate all types of drain cleaning equipment starting from a simple hand held auger, one of our heavy-duty hydro-jets. Balkan is proud to use a range of drain cleaning tools and equipment supplied by Spartan Tool to provide you with the best service possible. Spartan provides tools that are engineered and manufactured in the United States. Plumbing equipment by Spartan Tool is designed and proven to be durable and reliable. Balkan Plumbing only uses professional-grade tools to give you the best results, and in less time. By adhering to this policy, Balkan routinely clears clogged drain lines that other fail to clear.
Not every single one of your plumbing issue requires a professional. You can do simple DIY repairs for minor problems such as connecting a replacement faucet, replacing garden hose nozzle, cleaning out a sink strainer, and more. However, if you have any issue concerning your sewer or drain pipe calls for a professionals' assistance. Queens Sewer Service by Balkan Plumbing is always ready at your service to help keep your homes clean and healthy by making sure that all parts of the plumbing installation are working as they should be, contact the Balkan Team any time for prompt and professional service.