You may seem to need after hours drain services more and more frequently. There may be a simple reason for that. Now are the days when the vast majority of people, probably yourself included, seem to spend more time working to earn a living. Likewise people seem to take less time taking on mundane household chores, such as drain cleaning. A growing number of homeowners are getting more dependent on home-service businesses, such as residential cleaning, lawn care, home decorating, house painting, and of course plumbing. Some of these services revolve around the aesthetic values of the property. While other such services put a greater emphasis on the more fundamental and crucial aspects of living: health and hygiene.
You may require after hours drain services at any time
After hours drain services as an example of a vital service you may require at any moment. Such a service involves inspecting, cleaning, repairing, replacing, and perhaps installing one of the most important components of the entire pipe networks in a property. The main drain line takes wastewater from all fixtures in your home. Your drain then sends it either to a treatment facility run and maintained by the government, or to a septic tank. Unless your building has been vacant for quite a while, the pipe that functions as your main drain line is constantly exposed to hazardous/corrosive substances which sometimes also mean non water soluble materials.
Careful and clear planning is required prior to any job involving a drain line. This ensures compliance with regulations, and safety of both the plumber and homeowner. This care and planning likewise applies to after hours drain services. One of your biggest concerns may be that there are just too many companies offering plumbing services, which confuses your decision making process. Some of these companies may not have the inclination to perform as promised, or show up as promised. No less comply with local regulations. On the other hand you, as a homeowner, expect nothing but the best for a reasonable cost.
What Eddie P. had to say about his after hours drain services experience
I would like to say THANK YOU John from Balkan for sending George the plumber to my home! George came to my home on Saturday evening 8 pm on his day off to snake sewer line in house… he explained what was going on with the plumbing, and how he would fix the issue. This sewer line was never cleaned out… ever… heavy sludge etc. etc. in pipe… but he prevailed and won the good fight. I looked at my clock and it was past 1 am…!!

George is a very knowledgeable professional who explained everything that needed to be accomplished prior to and during the job. You have a very dedicated individual… I never had written a review before for anyone, but I had to take the time after seeing how much effort George puts into his work… This was the best experience ever, and I have already recommended Balkan (George) to family and friends….George Thank you!!!! John Thank you! Balkan Thank you! I have found the "Unicorn" plumber…"
A short list of key after hours drain services points
The cost should not vary, as experienced drain companies use staggered shifts.
There should be no sub-contracting; all workers should be under the companies direct supervision.
After hours entry into your home should not be taken lightly. All workers should be background checked and carefully screened by their employer.
Supervisors should also be on duty to verify and oversee the drain you are provided.
Always request a paid receipt,and a written warranty.
Plumbing services are integral to your quality of life
Plumbing deserves to be singled-out in the category of home services for two simple reasons. First, companies that provide services to clean, maintain, install, replace, and repair plumbing components are typically regulated by related governmental bodies. These may include the Department of Environmental Protection, the Department of Buildings, in addition to other professional trade associations and agencies. Secondly, plumbing services have everything to do not only with cleanliness, but also your health. Plumbing  is therefore integral to level of comfort of your home.
Maintenance and visual checks may save you from emergency drain service
As your life seems to get busier and busier, regular checks and maintenance of your main drain line get relegated further down in the routine to-do list. Few will take the time to clean their drain strainers, and dispose of oil and grease properly. There is no denying that you (if not most) homeowners only notice any problem with their house drainage system when the damage is already done. Frequently, that damage may indeed be self inflicted.
To make things worse, nuisances due to drainage issues often happens in the most uncomfortable time of the day: the after-hours. This is not to say that plumbing problems occur only at night, but homeowners have a tendency to neglect the early symptoms of an ineffective drain. You can then find yourself bumped into flooded basement, or a toilet backflow when you get home from work. This is where dependable after-hours drain services come in handy.
Expert NYC After Hours Drain Services
 Drainage system issues are common plumbing problems in any typical small town, let alone in a massive densely-populated area like New York City. With more than 8.6 million people or over 27,000 people per square mile, New York has the highest population density in the United States. Complexity is prominent not only on the surface, but also in the subsurface area where each of many thousands of houses has its own plumbing pipe network. The suggestion is simple: homeowners must take responsibility in maintaining their own plumbing installations. That includes your main drain line. Since you cannot perform all drain services with DIY a approach, professional plumbing companies are your best bets to handle the job. When problems happen, you need an experienced reputable company to restore order.
Who to call in NYC
In NYC, among the longest-running subsurface plumbing companies is the Balkan Team. A recipient of Angie's List 2017 Super Service Award, Balkan Plumbing has always been the go-to company for New Yorkers in Queens, Brooklyn, Manhattan, and the Bronx. Balkan's excellent range of services includes repair, replacement, and new installation of every plumbing component there is. All employees and technicians working at the company have gone through rigorous testing and background checks. This ensures that only dedicated skillful professionals earn the right to carry the Balkan name when they come visit your house. The company is open 5:30 AM, and accepts calls for service until 9 PM. This level of service is available all year long. Likewise, an experienced staff is there to answer every inquiry and question you may have. That is true even during after-hours, weekends, or any other holiday.
It is not uncommon that plumbing companies do indeed offer after-hours drain services. But the Balkan Drain Team stands out from the crowd with a near flawless track record of satisfied customers. That is true all across its business area. And backed up by glowing reviews all across the internet. At any given time, the company has 5 professional technicians available dispatch to your house as quickly as possible. An experienced technician will check for plumbing issues and recommend the best kind of repairs. They will likewise actually perform the job at that very moment as well. That is the benefit of experience, and a vehicle carrying an array of tools and equipment.
Balkan does not stop at just providing excellent services. The technicians educate homeowners about the issues, and all the underlying culprits so they can prevent recurrent problems in the future. Part of the job is to educate consumers about the importance of timely inspections and proper maintenance procedures. That "homeowner education" is surely appreciated, as evidenced by superlative online reviews.
A central  dispatch system that is GPS controlled
A central dispatch system and GPS minimize the time spent on the road finding your location. After-hours drain services are emergency work, and must be treated as such. In spite of the haste that comes with the nature of the circumstance, well-trained technicians are able to give you a walk-through of the situation. Then handle all possible difficulties with professionalism. The Balkan Drain Team comes to your house fully stocked and ready. Balkan does not arrive simply to make another appointment to do drain services the next day, accompanied by a poor excuse.
It does not matter if the issue takes few minutes or several hours to solve, Balkan's plumbers are determined to deliver. They can even call for reinforcements if need be. For example, when more powerful tools require additional labor, such as a water jet. When you need drain service during regular business hours, or non-emergency issues, Balkan can also arrange a free no-obligation visit. No obligation visits to your house for more detailed inspections of your sewer or water line system are gladly arranged.
The Balkan Drain and Repair Team advantage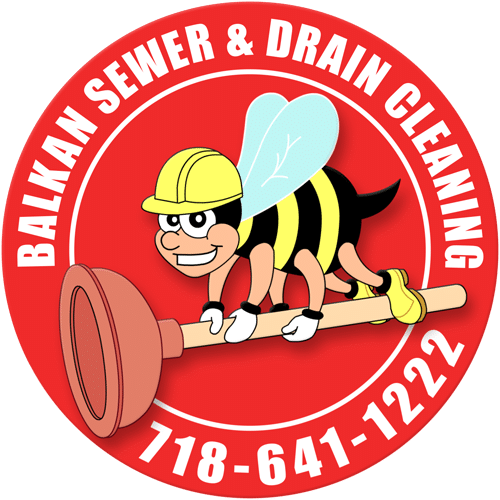 Another major advantage of the Balkan Team is the 10-year unconditional guarantee on sewer and water service line replacements. The company also typically provides next-day paving services to restore your cement and roadway like new. There will be no sinkhole or cracked surface in your property that reminds you of your plumbing repair.
When it comes to sub surface plumbing problems, especially after hours drain services, it is better to get the job done right the first time. The last thing you want is to revisit the same issue in the future. Your house drain is a crucial part of your living space; take responsibility by calling the most experienced company you can get in NYC. Contact the Balkan Drain Team for expert advice, or fast and professional daytime or after hours drain services.